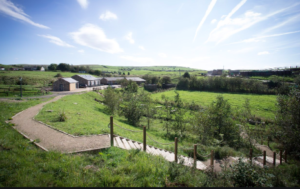 We recently had the pleasure of sitting down with two women entrepreneurs, based in the Rossendale valley, home also to Mr Fitzpatrick's Vintage Cordials. For those who don't know Rossendale, it is a pretty, little valley nestled in the Pennine hills in Lancashire,  just 20 minutes north of Manchester.
The Lancashire Gift Company
Hazel Cridford and Barbara Eastwood have been friends for over 20 years, ever since their children went to school together. But now the children are all grown up. In fact they have both just become grandma's so what could possibly entice them to take on the stress of setting up a brand new business – even if it is with your best friend?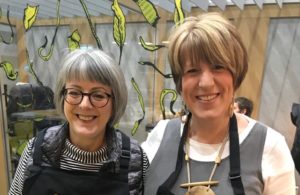 But that's exactly what Hazel and Barbara have decided to do. Together they have launched their new business, The Lancashire Gift Company, a new venture that showcases the best of Lancashire – from food and drink products to beauty, creating bespoke gift packages for all ages and tastes.
Chatting to them, the two friends ooze energy and passion for what they do. It is clear that despite all the challenges any new business faces, they are loving what they are doing and more importantly loving doing it together.    By their own admission, while they have very different skills and abilities it allows them each to bring something different to the business and that's what it works so well.
So where did the business idea come from?
Barbara was asked a few years ago by a friend living down South – "what do you people up north actually eat?". While a lot has changed over the years, it seems the great north/south divide continues!
On searching for traditional Lancashire foods to create a hamper for her friend, Barbara realised how difficult it actually was to find all the products in one place and noticed a gap in the market.   One evening, while chatting to her friend of over 20 years, Barbara and Hazel, decided to start The Lancashire Gift Company.
Lancashire Foods
Lancashire is probably most famous for its pies, Bury Black Pudding, hotpot, parkin. The BBC goodfood guide even has a list of the top 10 everyone should try!
https://www.bbcgoodfood.com/howto/guide/top-10-foods-try-lancashire
But Lancashire is also now home to some wonderful producers that extend beyond the stereotypes and not only just food.
Barbara and Hazel have collated a selection of products from across Lancashire to create beautifully themed gift packages. They have made a conscious effort to ensure their business is  as eco-friendly as possible. Their labels are made from cotton, the ribbon recycled and they have tried to ensure where possible that they work with suppliers who also mirror their values, and are doing what they can to minimise packaging and waste.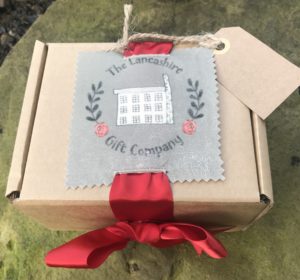 Their website has an extensive selection of products to choose from and here is just a small sample to wet your whistle
The Lancashire 'Hot' Pot! For the Chilli Obsessed
A Slice of Lancashire (Suitable for Vegetarians)
More and more people are looking for bespoke gifts, handpicked and full of character – all of their boxes certainly do that.   And of course, Mr Fitzpatrick's cordials and cans are part of many packages!  They are wonderful gifts for all seasons.
Supporting Small Businesses
When you order from the Lancashire Gift Company, there's something wonderful about knowing that your box is being handpicked and packaged with so much care and attention. Furthermore, it's always great to support small businesses not just at Christmas but all year round.
Delivery nationwide and local pick up available in Rossendale.
Last order date for pre Xmas delivery: 18th December 2019
If you would like to learn more please contact Hazel or Barbara on 01706 489074 or email info@thelancashiregiftcompany.co.uk