Times are difficult right now and are set to get tougher so seeking out things that make us smile is so important
There's been so many amazing free resources released to keep the children busy here's just a few ideas
Maths;
PE Classes:
Literature:
Virtual Museums
And here is one more  …
Mocktails for Kids
One of our much brand ambassador Georgi Petrov has created the most heart-warming mocktail class with his two little girls as they self isolate from their home in Blackburn.  We challenge you to watch this and not smile!
Using our No Added Sugar Raspberry & Lavender cordial and best selling Sour Cherry Red Grape & Hibiscus, together they create two mouth-watering mocktails that can be enjoyed by young and old alike and Georgi reaffirms, working with children can be challenging lol!
See how they do it here.
Mocktails for Kids by Justshakeorstir
If you aren't already familiar with Georgi, he is the name behind @justshakeorstir and became an Instagram hit in literally months.  He is a world-class mixologist that shares his creations and adaptations of infamous cocktails with fans across the world.
Who is Georgi Petrov aka JustShakeorStir ?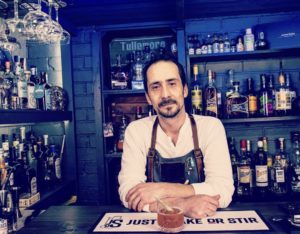 Georgi was born in Sofia, Bulgaria during the height of communism and his very first job was as a barman.  It wasn't until a couple of years until he moved to The Capital Bar in Sofia that he started to learn and fall in love with the art of mixology – discovering the difference between being just a regular barman and a mixologist.
Georgi submerged himself in this world, learning as much as he could about cocktail making, reading books, attending events, joining associations. Despite the restrictions of access to information due to the communist regime, he sought out any and every opportunity to learn. He had a clear mission. He wanted to be the best mixologist he possibly could.
Competing in global competitions
Throughout his career he has participated in many competitions against global mixologists:
1st place in a freestyle category competing for Beefeater Gin where they had to serve a themed cocktail and with his Dracula performance won the round.
More recently, he didn't win but in 2019 qualified for semi-finals and finals on cocktail competitions:
For UKBG, Giffard Liqueurs, Chase Distillery, Amaro Montenegro, Angostura, and Cut Rum
Reached the Top100 UK Bartenders in the Diageo World Class Competition; and
His cocktail Moon Rising, created for Russian Standard Vodka won an official cocktail for The Blue Moon Festival
In 2004 he opened his own bar but the long hours were unforgiving and he decided he needed a change and decided to embark upon a career on a cruise ship, originally DJing and then organizing production and events for 6 years.  It was while working on the cruise ship with he met his wife who was a dancer.
Eventually, they moved to England and in 2011 started life on dry ground.  He began working in photography and graphic design and for anyone who has ever seen the quality of his posts on social media, you will see how these amazing skills at work!  He truly is very talented in so many ways.
As his children passed toddler age, he started to be behind the bar came back and he decided to build a home bar from where he could share all of his expertise and creations to budding bartenders of all abilities across the globe.
The power of social media has helped Georgi create a loyal and growing following across any social channels especially Instagram and recently he launched his own youtube channel.  We are extremely lucky and proud to have Georgi as a brand ambassador for Mr. Fitzpatrick's cordials.
Justshakeorstir YouTube Channel – subscribe here
JUSTSHAKEorSTIR YouTube Channel